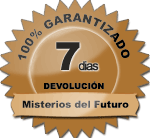 BACK GUARANTEE


100% Refund Guarantee.

If, within 7 days you want to return the product, Mysteries of the Future will refund the amount (excluding shipping).
The goods must arrive in perfect condition and unopened, for the reimbursement.
Thank you for trusting in Mysteries of the Future.

Continuous monitoring of the Order:

Will be constantly informed about the status of your order at any time. The Mysteries of the Future team will contact you via e-mail to inform you. You can also view their order through your account at our website.

SECURE PAYMENT

1. Bank Transfer.

It will provide the bank details necessary to make the transfer upon completion of your order.




2. VISA

After completing your order, click the button that will appear and the system will be directed to the secure VISA Caja Madrid. Just enter the details of your credit card.


3. Paypal

Enter the page of Paypal - Mysteries of the Future. The communication is encrypted (SSL). If you do not have Paypal account, click on the link to the effect, and may make payment by credit card. Why is it Safe? Paypal is an international organization that acts as a financial intermediary in the Internet. When you pay your order through Paypal, this utilizanco their secure payment gateway and your data and your card at any time are provided to the supplier, in this case the Mysteries of the Future.


SHIPPING COST

BEFORE FINISH THE ORDER AND PAYMENT, the system automatically calculates the expenses of shipment of your purchase and inform you of the amount.




Paises
Agencia Transportes
• France
• Portugal

• 10 Kg: 15,00 €
• 30 Kg: 20,00 €
• 50 Kg: 25,00 €

• Italy
• Germany
• Holland
• Belgium

• 10 Kg: 20,00 €
• 30 Kg: 25,00 €
• 50 Kg: 35,00 €
• United Kingdom
• Poland
• 10 Kg: 30,00 €
• 30 Kg: 35,00 €
• 50 Kg: 45,00 €

If you receive merchandise broken or damaged, the customer has 24 hours to make claim on the goods received.

If your order has not been picked up by you because they are not in his home at the time of delivery during two consecutive times, you must pay back the shipping charges to return receipt.




SHIPPING TO WORLDWIDE



We are not responsible for customs duties and other import costs of the customer.

For inquiries, please contact us.

Post. 15-30 days

• 2 Kg: 25,00 €
• 5 Kg: 37,00 €
• 10 Kg: 59,00 €
• 20 Kg: 105,00 €
• 30 Kg: 150,00 €



WHOLESALE PURCHASES


• Minimum order: 60 €

• Back Guarantee: 7 days

PRODUCTS IN YOUR LANGUAGE

If you wish to label its products with its own language, you can request a free to place your order. You must order a minimum of 25 units per item.

Languages: English, French, Italian, Portuguese.



Before making their purchases at wholesale, sign up for Mysteries of the Future and request your registered wholesale customers.

You will receive a confirmation email. From that moment, you have access to our site with special bulk prices.